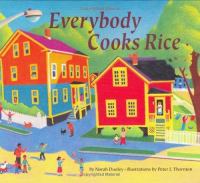 Everybody cooks rice / by Norah Dooley ; illustrations by Peter J. Thornton.
Author:
Dooley, Norah, author.
Note:
A child is sent to find a younger brother at dinnertime and is introduced to a variety of cultures through encountering the many different ways rice is prepared at the different households visited.
This item has been checked out 3 time(s)
and currently has 0 hold request(s).